Withings Black Friday 2022
Withings annuncia i suoi sconti per il black friday e per l'occasione c'è un codice sconto aggiuntivo
Black Friday, ultimo venerdi del mese di Novembre, è famoso per la giornata di sconti più importanti dell'anno.
Withings per l'occasione presenta tutti i suoi sconti che in alcuni casi sono veramente molto interessanti.
Uno degli orologi più belli che io abbia mai visto sotto l'aspetto di smartwatch. E' caratterizzato da moltissime funzionalità come:
HEART HEALTH MONITORING
BREATHING DISTURBANCES TRACKING
SLEEP ANALYSIS
ACTIVITY TRACKING
Per chi vuole tenersi informa e cerca un prodotto veramente tecnologico, il Body Cardio è davvero interessante.
Ecco le principali funzionalità:
Heart health
Indication of your cardiovascular health via Pulse Wave Velocity and heart rate
Body composition
Weight (kg, lb, st), weight trends, body fat & water percentage, muscle & bone mass
Seamless Wi-Fi sync
Automatic data sync via Wi-Fi to the free Health Mate app (iOS & Android)
Multi-user friendly
Recognizes and tracks up to 8 users independently
Tailored to you
Opt into Pregnancy Tracker, use the baby weighing feature, or enable Athlete Mode to meet your specific needs
Life-friendly features
Ultra-thin design, rechargeable battery, localized weather forecast & previous day's steps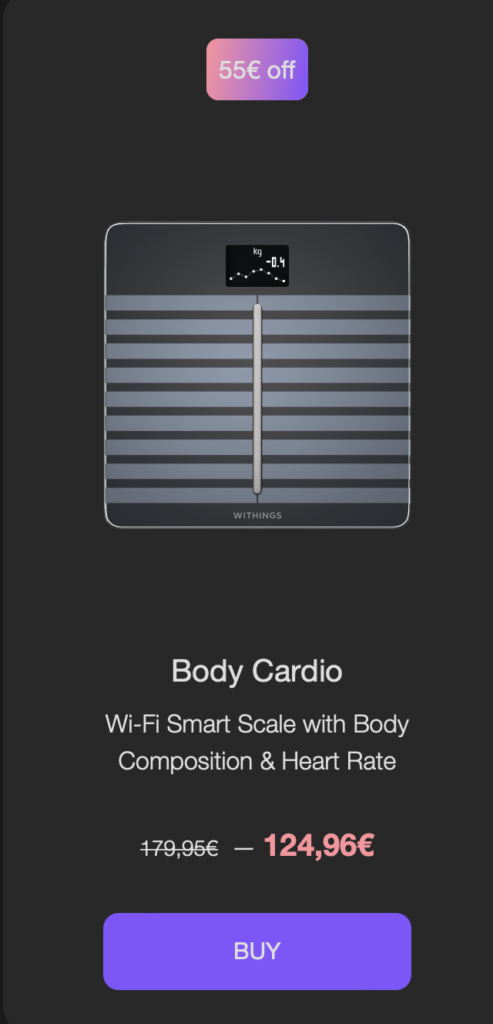 BMP Connect
Se siete amanti dei gadget anche negli accessori quotidiani, questo misuratore di pressione fa al caso vostro. Ecco le caratteristiche principali:
Medically accurate blood pressure & heart rate
Compliant with European medical device standards
Immediate results
View color-coded feedback on device & in app
Automatic smartphone sync via Wi-Fi & Bluetooth
All results available instantly via the free Health Mate app
Secure data storage
Your data history is securely stored and readlily available over time
Rechargeable battery Lasts up to 6 months
E un termometro tecnologico no? Questo è un ottima soluzione per impressionare gli amici.
Ecco le caratteristiche principali:
High precision
Thermo has 16 infrared sensors to provide a highly accurate result
Quick & easy
Ultra-fast measurement with color-coded fever indicator
No contact required
Ultra-hygienic, non-invasive measurement
Automatic synchronization
Data from every measurement and health advice appear in the Thermo app automatically via Wi-Fi
Multi-user friendly
Up to 8 users can access their personal temperature history with the ability to share with doctors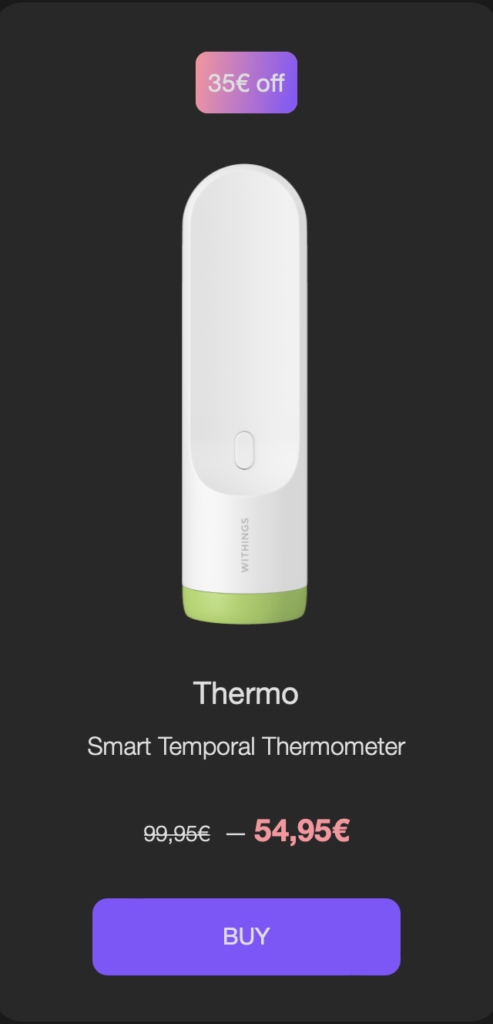 Ma gli sconti finiscono qui? Certo che no, per l'occasione vi lascio uno SCONTO EXTRA che vi regalerà al momento dell'acquisto 10€. La promozione è valida fino al 28 Novembre 2022.
Per maggiori dettagli e rimanere aggiornati su ulteriori sconti, seguitemi su instagram: @tidingsblog